Skyfall, the 23rd James Bond movie, was filmed partly in Turkey, especially Istanbul, Fethiye and Adana (which served as a stand-in for the outskirts of Istanbul).
Bond makes his first appearance coming out of the old Deutsche Orientbank building in Eminönü, not far from the Egyptian (Spice) Bazaar and the Yeni Cami (New Valide Mosque).
The first big chase scene takes place in and around the Grand Bazaar, especially the Büyük Valide Han and on the roofs of the bazaar: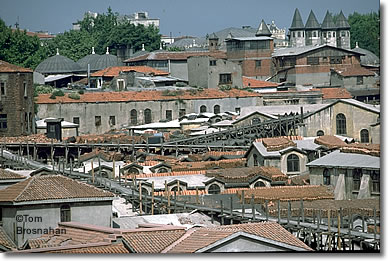 Roofs above the Grand Bazaar
Additional filming (Bond drinking with the locals…and a scorpion) at Sarıgerme Beach near Dalaman in Fethiyeprovince.
The top-of-the-train scenes were filmed in and around Adana at the eastern end of the Mediterranean coast.
Istanbul locations included Sultanahmet Square, Hagia Sophia, the Grand Bazaar, the Egyptian ("Spice") Bazaar, Yeni Valide Camii mosque, and the Büyük Postane (Istanbul main post office).
Shooting was to begin in April 2012, but on April 19th, southern lodos winds tore through Istanbul at up to 130 km (81 miles) per hour, wrecking the sets and equipment in Eminönü.
Directed by Sam Mendes, stars include Daniel Craig, Judy Dench, Tonia Sotiropoulou, Naomie Harris, Javier Bardem, Ben Whishaw, Albert Finney and Rory Kinnear, with a screenplay by Neal Purvis, Robert Wadeand John Logan, and musical score by Thomas Newman. Roger Deakins directs the photography.
Many Turks are happy that "James Bond came back to Istanbul." Two earlier James Bond films, From Russia with Love (1963) and The World is Not Enough (1999) were filmed partly in Istanbul.
You may want to compare them with that other classic motion pictures filmed in Turkey, Topkapi.
Most of the Istanbul filming locations are easy to visit. Most are included on my walking tours. More…
—by Tom Brosnahan
---